Alfred State has been designated a silver-level military-friendly school by Victory Media. With enhancements to the Post 9/11 GI Bill®, such as monthly housing allowance and a books and supplies stipend, veterans will find college expenses more affordable. At Alfred State, we offer a veterans' lounge and exemptions on parking fees for student veterans.
The Johnny Isakson and David P. Roe, M.D. Veterans Health Care and Benefits Improvement Act of 2020 requires educational institutions to make certain disclosures to students using federal military and/or VA educational benefits. To view and print a copy of an estimated personalized cost of attendance you can visit the SUNY Net Price Cost Calculator and select Alfred State from the dropdown. Additional financial information can be found at the NCES College Navigator site.
The SUNY Financial Aid Plan (FAP) will provide a more in-depth analysis and accurate picture of student cost once the student has filed their FAFSA, completed a SUNY application, and has been accepted by a campus.
Important Note: GI Bill® is a registered trademark of the U.S. Department of Veteran Affairs (VA). More information about education benefits offered by the VA is available at the official U.S. government Web site.
The VA certifying official assists veterans and eligible dependents entitled to educational benefits administered by the Veterans' Benefits Administration. They can help students through the entire process from determining eligibility to receiving educational assistance benefits.
Those interested in veterans' benefits under the GI Bill® (Post 9/11, Active Duty, or Selected Reserve) should contact Joann Bloxsom, VA certifying official, at 607-587-3960 or via email for further information or to make an appointment.
Getting Started
Please be sure to gather the following items if they apply:
DD-214 for the veteran under which you are applying for benefits
Notice of basic eligibility (if you are in the Reserves)
Necessary paperwork to demonstrate eligibility for Chapter 35
Alfred State permits any student receiving Chapter 33 or Chapter 31 benefits to attend and participate in coursework during the period for which a Certificate of Eligibility, Statement of Benefits, or VAF 28-1905 is received.
Alfred State will not impose any penalty, including the assessment of late fees, the denial of access to classes, libraries, or other institutional facilities, or the requirement that a covered individual borrow additional funds because of the individual's inability to meet his or her financial obligations to the institution due to the delayed disbursement of funding from VA under chapter 33 or 31.
Military Tuition Assistance
Federal Assistance
Alfred State accepts Military Tuition Assistance from all U.S. service branches. All Active Duty Service Members, including Guard and Reserve, must receive approval from their education service officer or education counselor within their branch of service prior to enrollment. We can assist in the process of enrollment once eligibility is established. Available services include providing an outline of your degree plan and the transfer credits awarded, submitting required information prior to the start of a given semester, and inputting grades once received.
Individual Tuition Assistance information and required steps for approval for each service branch is available below.
Return of Tuition Assistance
Military Tuition Assistance (TA) is awarded to a student under the assumption that the student will attend school for the entire period for which the assistance is awarded. When a student withdraws, the student may no longer be eligible for the full amount of TA funds originally awarded.
To comply with Department of Defense policy, Alfred State will return any unearned TA funds on a prorated basis through the 60% portion of the period for which the funds were provided. TA funds are earned proportionally during an enrollment period, with unearned funds returned based upon when a student stops attending. These funds are returned to the military Service branch.
State Assistance
The Recruitment Incentive and Retention Program (RIRP) is a New York State Program designed to recruit and retain quality members for the New York Army and Air National Guard and the Naval Militia. Any active member, in good standing, is eligible to apply to receive tuition assistance, up to the cost of the State University of New York's (SUNY) maximum in-state undergraduate tuition after NYS Tuition Assistance (TAP) is applied.
The following are basic RIRP eligibility requirements:
Be in good standing with the State Military Forces (attend or make-up all drills and annual training)
Be accepted and enrolled in an undergraduate degree-granting program for a minimum of six (6) credit hours per semester or four (4) credit hours per quarter
Be a resident of the State of New York for a period of 186 days prior to using the program, excluding Active Duty periods
Applications are processed exclusively by the NYS Division of Military and Naval Affairs. The deadline for fall semester applications is Aug. 15 and the deadline for spring semester applications is Dec. 15.
*Drilling reservists of the U.S. Navy, Marine Corps, or Coast Guard are eligible for NY Naval Militia membership as long as your primary drilling location is in New York State.
Joann Bloxson, VA certifying official in the Student Records and Financial Services Office, is the point of contact for service members for financial advising and student support services such as disability and career development services. Joann can be reached via email or by phone at 607-587-3960. In addition, all students are assigned a financial aid counselor while enrolled at Alfred State. Students are encouraged to make an appointment to meet with their counselor and discuss any financial aid concerns. More information on topics such as applying for and processing aid, college costs, scholarships, types of aid, and a detailed financial aid timeline is available in our Financing Your College Education Resource Guide.
Alfred State College complies with program integrity requirements consistent with the regulations issued by the Department of Education (34 C.F.R. 668.71-668.75 and 668.14) related to restrictions on misrepresentation, recruitment, and payment of incentive compensation to eliminate unfair, deceptive, and abusive marketing aimed at service members. Alfred State and its agents including third party lead generators and marketing firms will:
Ban inducements, including any gratuity, favor, discount, entertainment, hospitality, loan, transportation, lodging, meals, or other item having a monetary value of more than a minimal amount, to any individual or entity, or its agents including third party lead generators or marketing firms other than salaries paid to employees or fees paid to contractors in conformity with all applicable laws for the purpose of securing enrollments of service members or obtaining access to TA funds. Educational institution sponsored scholarships or grants and tuition reductions available to military students are permissible, and;
Refrain from providing any commission, bonus, or other incentive payment based directly or indirectly on securing enrollments or federal financial aid (including TA funds) to any persons or entities engaged in any student recruiting, admission activities, or making decisions regarding the award of student financial assistance, and;
Refrain from high-pressure recruitment tactics such as making multiple unsolicited contacts (three or more), including contacts by phone, email, or in-person, and engaging in same-day recruitment and registration for the purpose of securing service member enrollments.
Alfred State College also adheres to the National Association for College Admission Counseling's (NACAC) code of ethics related to student recruitment, including service members and their families.
Questions regarding the NACAC code or HEA regulations may be directed to the vice president for Enrollment Management.
Military veterans or active service members who have completed approved training courses may be eligible for transfer credit. Alfred State College follows the American Council on Education (ACE) recommendations for awarding academic credit which may be used for degree completion. For credit consideration, veterans and active service members are encouraged to submit their official Joint Services Transcript (JST) for evaluation. Applicable training will be reviewed under the coordination of the transfer advisor and students are sent a transfer credit summary email once their review is completed.
No Parking Fees for Veterans
Join our Group on Facebook
Veteran alumni, faculty, staff, and students are invited to join the Alfred State Veterans Group on Facebook to meet, share information, reconnect, and network. Veterans' dependents and friends of Alfred State who support veterans are also welcome to join as well as family members of those who are in active duty. We want to meet you and hear your story.
Max Elia
Healthcare Management
Max Elia saw the world serving in the United States Navy and developed a passion to work in the healthcare field. When his career in the Navy led him back to his hometown, Buffalo, NY, he started searching for a school to complete a bachelor's degree online.
Working as the Navy's Medical Programs Coordinator and Officer Recruiter in the Western New York area, Max found the right fit with the Healthcare Management degree program at Alfred State. 
"I had worked in healthcare for years as a Hospital Corpsman and I was looking for a degree that would allow me to build off of my background in healthcare administration and management."
"Transferring credits was a fairly simple process for me…as soon as my transcripts were received and assessed I received a degree evaluation from the student record department."
With the help of his advisor Maureen Kinney, Max was able to design his degree plan. 
"She continuously followed up with me to ensure I was doing well. Going into the process, I was a little intimidated. Thankfully, Maureen stepped in and helped get everything I needed set up."
Max worked his full-time job and took care of his family while pursuing his degree. 
"The 24/7 accessibility of online learning was extremely convenient to me. I was pleased with the whole experience. I thought the professors were very knowledgeable and the classes were thoughtful and engaging. I was challenged by the assignments and learned a lot of helpful information in the classes."
"I met a lot of really great students progressing through their degree programs just like I was. I enjoyed talking and discussing information with people who were at similar points in life like I was."
Max has already started to apply his new knowledge in his current position and is looking forward to pursuing a master's degree someday in Healthcare Administration and Public Health.
Thankful for the support of his family, Max plans on treating his wife and two sons to a weekend out and some fancy dinners.
Max encourages others to follow this advice if they are looking to complete their degree online. "You know where you are and you know where you want to be, keep your focus on your goals and not the challenges you are going to face. Nobody else is going to get it for you."
Brian Hierl
Nursing
After 24 years of service in the Air Force, Brian Hierl knew he wanted to go to school for nursing because it would give him opportunities to progress and help people.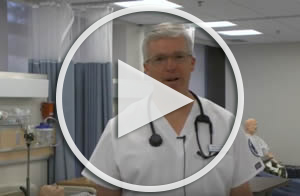 When conducting his college search, he looked into Alfred State, and came away impressed.
"Researching the school in general, everything I saw said that they are very action-oriented, meaning they focus on the skills you need to have to actually perform. It's not just all lecture. The hands-on experience was very important."
Additionally, Brian noted that Alfred State's affordability was another reason he chose the school. As a retired member of the military, Brian also received financial assistance from the Veterans Tuition Award and the Montgomery GI Bill.
Coming into the nursing program as an older student, Brian was understandably tentative at first. However, he quickly learned that he had nothing to be nervous about.
"Everybody made me feel pretty comfortable. They treated me like they treated everybody else, and that was important to me. I made the transition pretty quickly and seamlessly."
Because he is receiving a high-quality education at a great price in a friendly environment, Brian highly recommends Alfred State to any adults looking to further their education.
"I mean, how do you go wrong?"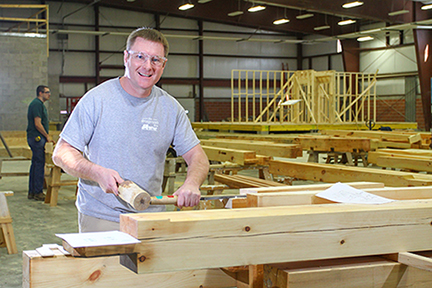 Bill Buckner
Building Trades: Building Construction
When former Army Master Sgt. Bill Buckner, of Friendship, decided to attend college to learn building trades, he wanted some hands-on work, rather than sitting in a classroom all day, so he chose to earn his degree Alfred State.
"I didn't want to write a whole bunch of papers. In my major, you sit in a classroom for an hour or two in the morning and then you apply what you've been taught. Plus, you're more active."
The 20-year military veteran noted that he is attending Alfred State through the Post-9/11 GI Bill, which provides, for approved programs, up to 36 months of education benefits, generally payable for 15 years following an eligible soldier's release from active duty. The three major benefits of the program include up to 100 percent paid tuition, a monthly housing stipend, and a stipend of up to $1,000 a year for books and supplies, according to Military.com.
"It's just a wonderful program."
Alfred State, Buckner said, is very veteran-friendly. He said what he enjoys most about the college is, without question, the hands-on aspect.
"I think you learn a lot more by doing."
Jordon Williams
Electrical Construction and Maintenance Electrician
After completing his service in the Marine Corps, Jordon Williams, of Hammondsport, began researching colleges to attend.
His search ultimately brought him to Alfred State.
"It had the best program for what I wanted to do."
Williams said he would like to become a wind turbine technician after graduating. He said the faculty have helped him out tremendously and that the college has given him the knowledge and confidence he needs to have when entering the workforce.
"The hands-on aspect at Alfred State has helped me get ready for the career I want because we're getting all of that information that we need, all that training that we need, besides just reading from a book. We're getting that hands-on experience that employers are looking for."
Williams advises incoming students to not get caught up in "college life."
"You're coming to learn how to develop into an adult and this is going to be the education that you'll have that makes you either a failure or a success."
The Veterans' Lounge is located in EJ Brown, room 201. This space offers comfortable lounge furniture, refrigerator, microwave, and several computers. This room is accessible through a key code so only veteran/military service students and faculty/staff have access.
SALUTE was established in 2009 through funding from ACE/Wal-Mart Success for Veterans Grant at Colorado State University. It is the first of its kind that recognizes academic achievement of student veterans in both two- and four-year institutions of higher education. Alfred State started its chapter in fall 2015. For more information on SALUTE, please see their website. For information on the Alfred State chapter specifically, please contact Veterans Advisory Board member Melanie Ryan at ryanma@alfredstate.edu.
Veterans Advisory Committee (VAC)
Committee Chair:
Members:
Alfred State acknowledges and appreciates the important contributions of our students who are currently serving in the United States Armed Services. In order to support these students, we pledge to make every effort to provide reasonable accommodations to individuals who must be absent due to military obligations.
Students who need to interrupt their studies during a semester already in progress or for a future semester can protect their matriculated status for up to one full year by applying for a leave of absence.
A student wishing to apply for a military leave of absence should first see his or her department chair to determine eligibility and to approve the semester of return, or discuss options for completing coursework through reasonable accommodations.
Per SUNY's Billing, Refunds, Collection and Write-offs Policy for Tuition, Fees, and Other Charges, Students taking a leave of absence or withdrawing because they have enlisted with, or been called to active duty by, the Army, Navy, Marine Corps, or Coast Guard will have all tuition and fees refunded if they have received no academic credit. In the case of part-of-term courses completed, the student would be required to choose between no academic credit for such coursework, or no tuition and fee liability.
A student approved for a leave of absence during a semester will be subject to the same policies regarding financial aid and liabilities for tuition, fees, and refunds, as a student who withdraws.
To obtain a Military Leave of Absence, students must submit a copy of their military orders along with a completed Leave of Absence to the Student Records and Financial Services Office. Students who are granted a Military Leave of Absence but do not return within a year must file an Application for Readmission with the Admissions Office in order to re-enroll.
Apply for the Post 9/11 GI Bill on www.vets.gov and on www.ebenefits.va.gov.
Locate a New York State Veterans Counselor near you by phone 1-888-VETSNYS (1-888-838-7697).
Scholarship opportunity with The Law Office of Anthony Castelli - annual scholarship awarded to a current military veteran or honorably discharged veteran or parent, sibling, child or grandchild of a current or honorably discharged veteran. Applicant must submit a 750 - 1,000 word essay. The essay topic is: "The American Military's Place in Preserving Freedom for the United States."
We're here to help! If you have questions about enrollment, please contact Associate Director of Admissions Brett Talbot by phone 607-587-4215 or email talbotbh@alfredstate.edu.
For questions about processing your bill, you may contact Certifying Official Joann Bloxsom by phone 607-587-3960 or email bloxsojf@alfredstate.edu.